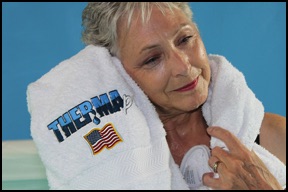 The ThermaPool is Our Grandchild
We have been making portable swimming pools for over 10 years. And one of the reasons our therapy pool is so affordable and yet, so versatile, is because it is the grandchild of portable swimming pools - unlike swimspas, which are descended from hard-framed fiberglass spas.
This unique feature allows us to deliver exceptional warm water therapy at a cost at a fraction of other pools, spas and/or facilties. In fact, if you compare the monthly costs of heating and maintaining a therapy pool to conventional spas, swim spas or in-ground pools - our therapy pool is the better choice.
And, while all other manufacturers have been running to China, we decided to stay right here in the USA producing the finest example of American know-how in therapy pools. Making us truly a great American Success Story.
Made Right Here in your Backyard
These days it seems everything is made in another country - not just China, but everywhere else except the United States of America. Not the ThermaPool - it is made right here in the good 'ol USA.
Plus, we also use other American-Made products, the material, the steel, the heater and the support equipment - all made in the USA. Why? Because we have found over the years, that yes it may cost more to do business here in the US - but the quality is better and it helps our country.
This allows us toff you so many different options, such as: different colors, different depths, and a variety of options. Your ThermaPool does not exist until you order it - even if you need to modify the pool size to fit your needs. No other company can offer you this kind of affordable, built-to-order, at such a reasonable price. Basically we have combined the customization capacity of a traditional in-ground pool with the heat-retention capabilities of a conventional spa and combined them into a very cost-effective deep warm water pool - that's just right for your needs.