Our therapy pool is the world's first pool, designed from the ground up, to be exclusivly used for at-home therapy to allow daily access to deep warm water.
This all new design takes advantage of great advances in technology to bring the most sophisticated, eco-friendly warm water therapy pool to homes all across the world. From the very moment you slip into your own ThermaPool, you will feel the difference from a spa, a swim spa or a regular pool. Every part of the therapy pool is designed to create a soothing and warm environment for iathome aquatic therapy. Made right here in the USA, our therapy pool comes in the right size to fit your needs and available space. Learn More about this Unique Feature >>>
Your ThermaPool is Available in Every Size
The idea behind a ThermaPool is to make having access to deep warm water on a daily basis affordable. With the rising growth in aquatic therapy, more and more people are seeking sources for deep warm water. Sadly though, what they are finding is that availability is very limited. Having an at-home therapy pool eliminates the need to drive. Our ability to make you a therapy pool any size helps you to turn any available space into a therapy pool.
What makes it all possible is a variety of advancements in technology and materials. For example, our patent pending insulated liner material allows your therapy pool to provide you a soft-to-touch surface with all the insulation qualities of a spa. Even though your therapy pool is as much as three times as deep as conventional spas, our revolutionary new material is so advance it reduces heat loss by up to 95%. Learn More >>>
Twice as Deep as a Standard Spa or Swimspa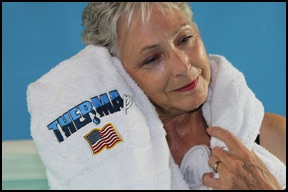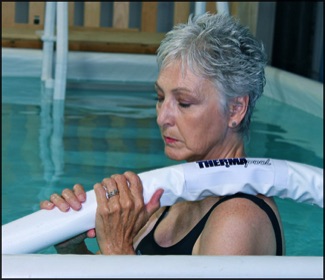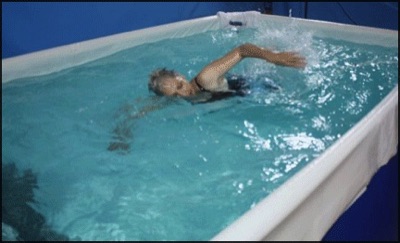 Swimming is an example of only one aquatic therapy exercise. A ThermaPool offers a variety of exercises that are ideal for at-home warm water therapy.
Our pool's unique design and overall function is very user friendly. For years we have been showng customers how they can turn a small area in their basement, garage or covered patio, into a fully functional aquatic therapy area. And if you do not have available space indoors, that's okay too. Your therapy pool can be placed on any type of level ground, including; grass, dirt, concrete, sand, asphalt or any combination of them
Our customers enjoy soothing and relaxing therapeutic exercises in the privacy of their own home. Learn More >>>
Turn Every Movement into a Therapeutic Exercise