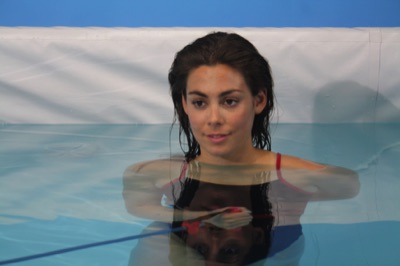 Doctors, clinics and physical therapists across the globe agree an exercise routine receives better and faster results in the body of deep warm water. These benefits include; better circulation, calmer nerves, greater range of mobility, and it promotes even more activity by the occupant. But gaining acecess to deep warm water on a regular basis has either been too expensive or too much of a hassle - until now.
Imagine, Exercising without Pain*
in Deep Warm Water in the Privacy of your Home for Less than a Dollar a Day**
ThermaPool® is America's most affordable solution for daily access to deep warm water in the privacy of your own home. Because a ThermaPool is the world's first swimming pool designed exclusively as at-home therapy pool, having everything you are looking for at a price you can live with. We urge you to peruse our website and discover for yourself just how easy and affordable having access to deep warm water can be.
** Based on an annual average of a TP1, set at 90º, 220v, with ambient room temperature of 68º.
*This Customer says,
"When I am in the water I have no pain."
Exercising without Pain. That is the true beauty of a ThermaPool in the privacy of your own home. You are able to increase your exercise routine without increasing your pain. That's worth ten times what it costs to buy a ThermaPool.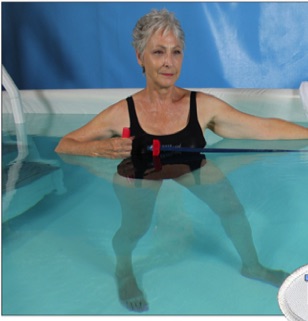 A ThermaPool offers the deepest and most unobstructed access for at-home warm water aquatic therapy. Offering you more than twice as much warm water depth as all other alternatives including: Endless Pools, spas and swimspas. Learn More >>>
Because a ThermaPool is substancially deeper than any other comparable at-home aqua-therapy solution, it provides greater buoyancy which dramatically improves exercise benefits. Learn More >>>
This increased water depth also reduces the impact body weight has on exercising. Allowing a user to focus on just one part of the body without the added weight associated with dry-land exercises. Learn More >>>
A ThermaPool has a revolutionary new design that is based on tremendous advancements in environmental-safe technology. Allow us the ability to provide you with the most affordable deep warm water choice without greatly impacting the environment.
ThermaPools Do Not Waste Heat: Our patent-pending heat retention design prevents heat loss by as much as 95%†. This very unique feature dramatically reduces your monthly heating costs as well as reduces the impact on the enviroment. Learn More>>
No Chemical Dependancy: Community pools and spas are known for that strong chlorine odor. Though there have been alternatives, in community-access water, only chlorine works. However, a ThermaPool uses a very natural way to sanitize the water that in many cases, eliminates the need for chlorine. Learn More>>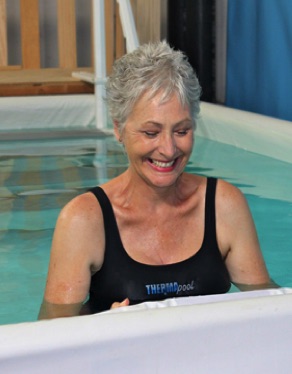 Creating a Quiet Environment: Swimming pool and spa equiptment are very loud. A ThermaPool uses a much quieter pump that is so quiet that you could be standing next to the pool and may not even know it is on. Learn More>>
No Driving Necessary: Of course, when you have daily access to deep warm water in the comforts of your own home, you do not have to drive anywhere to feel better. That too, is better for the environment and your wallet. Learn More>>
Always the Right Size: A ThermaPool is made-to-order right here in the USA. We offer three standard sizes but any one of them can be modified down to fit your needs and available space. This is a very unique feature. Learn More>>
... and Its Absolutely a Keeper!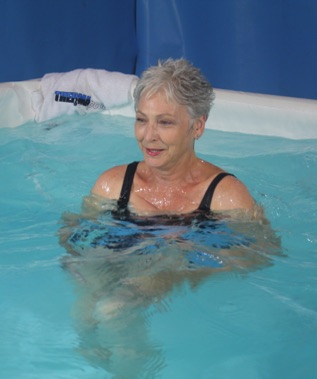 This Customer could not even do Exercise without being in a ThermaPool.
It truly is amazing how much more effective basic exercises can be when performed inside the warmth and depth of deep warm water. Even the simplest of routines like; walking, sitting and getting up, or stretching, are dramatically improved when done in a ThermaPool.

By the time a customer purchases a ThermaPool, they have already been in pain for a very long time. From the moment these ailing customers enter their very own ThermaPool, the healing process begins. But it is far more than just a purchase - it is a whole lifestyle change. Making daily exercise easier and healthier.
Easier on the Body: A ThermaPool offers deep warm water in the privacy of your own home. The moment you enter the heated pool your body begins to relax. The nerves, the muscles, the whole body is buoyant in the warm water, and that is easier. Learn More>>
Easier to Move: Within warm water, it becomes easier for a body to move because there is much less effort and resistence. At first, just floating in the warm water feels amazing. But then you quickly discover every movement is just easier. Learn More>>
Easier to Exercise: The simplest of exercises are dramatically more beneficial when performed in deep warm water. Walking, stretching, squatting, bending - you name it. Every exercise is not only easier, they are relaxing and usually without pain. Learn More>>
Easier to Feel Better: Increase mobility and decrease pain. Increase a body's circulation and decrease the weight burden. Increase your desire to do exercise and decrease your dependancy on pain medication. These are just few examples of what customers have told us they experienced with ThermaPool. Learn More>>
ThermaPool Helps Make Exercise Easier and Healthier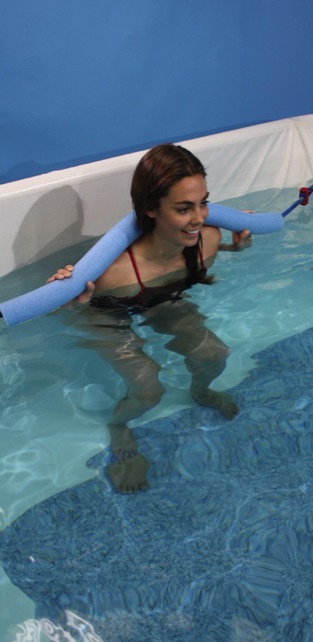 Picture Includes Options Not Standard with a ThermaPool.
We would not promote a ThermaPool as a "miracle cure." But Bernadette Scarduzio would!
Bernadette suffers from a hereditary neuropathy disease called Charcot-Marie-Tooth disorder, an aggressive and progressive nerve disorder that currently has no cure. It attacks the nerves causing semi-paralysis. She gets around in a wheelchair, but in her ThermaPool, she walks, exercises and comes alive.