Doctors have long heralded the value of aquatic therapy. But only in the last 20 years have insurance companies started to recognize aqua therapy as a viable alternative to medicine. In fact, today insurance companies are seeing a dramatic rise in the use of aqua therapy for the sole purpose that it works.
It is important to understand the benefits of not just aquatic therapy, but deep warm water therapy. Standing in two feet of warm water, as is found in standard spas, is not effective aquatic therapy. Portable spas have there purpose, but for our therapy pool users, who need to have ample room to move, to walk, to stretch, to squat and so much more - have found spas way too limited. Learn More >>>
Aquatic Therapy - A Recognized Cure
Given that so many more patients are now being prescribed aquatic therapy, there has been a growing interest in developing more exercises. However, most of these exercises do not really take advantage of the buoyancy benefit's full potential. The truth is, every single exercise performed in warm water is amplified.
Working with trained professional physical therapists, we are converting standard land based exercises that can be performed in our deep warm water therapy pool. These range from simple movements to utilizing the unique grommets and resistance equipment we have developed. All designed to help you enjoy a more productive aquatic therapy at home Learn More >>>
If you have ever encountered a serious injury your whole body suffers. Muscles, joints, nerves, virtually every where in your body it hurts. And though exercise is prescribed, along with various pain-killers, the exercise itself is stressful and painful. Deep warm water therapy changes all of that. Warm-water aquatic therapy in a ThermaPool is a wonderful treatment that helps slowly rebuild muscle strength in a less painful way. Learn More >>>
Aquatic therapy is often prescribed by many doctors, surgeons, and neurosurgeons. There are many aqua therapy centers across the country, and aqua therapy is not only prescribed for serious injury, but are often prescribed for sports injuries. But the issue is getting to these locations and then, of course, sharing them with other users. By purchasing your own affordable ThermaPool, you will never have to worry about driving to it, sharing it, or even going a single day without it. Learn More >>>
Did you know there is over 1200 ailments that can be prescribed aqua therapy for treatment? Learn More >>>
Warm Water Offers Better Therapy than Dry Land Exercises
Many people use aquatic therapy to prevent injuries as well. In most cases warm water therapy is a relatively cheap form of therapy, with quite a few unique benefits. Aquatic therapy, unlike massage therapy, traction, or electronic stimulation, doesn't just relax the muscles, it helps to condition and strengthen them, improves flexibility and allows a user to focus on one area wihtou stress on the rest of the body. On the other hand, it is much gentler than standard dry land physical therapy, as it relaxes the nerves as the user works to regain muscle strenth. Learn More about Focused Water Therapy >>>
Focus on One Area to Strengthen Without Stress on the Rest of the Body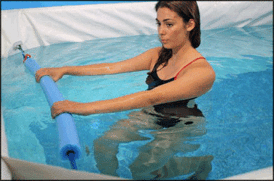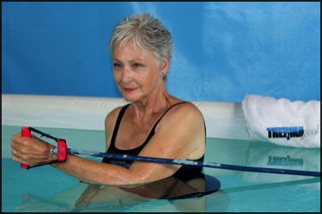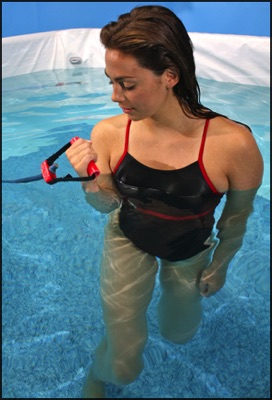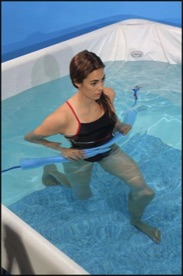 There are many variations of warm water aquatic therapy, but they all can be performed in a ThermaPool. Even simple stretching routines and slight exercises can quickly gain a user the benefits from the purchase. After you accomplish a few of these simple exercises, which loosen sore, repaired, or injured muscles, you can begin to work to strengthen the injured areas as well. Your ThermaPool is a tool in this process. A tool that turns a simple walk or squat in a wonderfully therapeutic exercise. Learn More >>>
Aqua therapy is one of the better, easier therapies available for recovery today. If the option is available, aqua therapy is as pleasant a therapy as you will find, though there's no therapy fully free of pain, a ThermaPool can certainly make owning a therapy pool "pain-free."
Warm Water Offers Better Therapy than Dry Land Exercises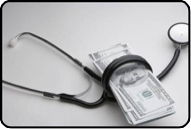 Did You Know a ThermaPool May be Tax Deductible?
A ThermaPool can qualify for a tax deduction for the following reasons; it is not considered a home improvement, and, if the whole purpose of the pool is for doctor prescribed therapy only, then it meets the standards under IRS form number 502.
Did You Know a ThermaPool Offers Financing Options?
We know how important a ThermaPool can be for our customers. As such, we have done our very best to make it as affordable as possible while still manitaining the necessary quality for it to do its job. But we also scoured the financial world to provide multiple financing options. These of course vary by the individual needs of each buyer. Learn More about this >>>.