A ThermaPool is Oh So Soft to Touch
Our therapy pool provides the user the softest floor surface possible. Unlike spas and other swimming pools, our therapy pool has a very soft comfy floor padding that is part of the overall design of a ThermaPool.
All spas and swimming pools have hard rigid surfaces that your feet have to stand on. Concrete swimming pools are the worst. The concrete is very abrasive on the foot. And if a therapy pool user is trying to do a lot of exercises that require standing in the pool, their feet begin to feel abused. But we did not forget your feet.
As part of the overall design, the base floor of the pool has an important padding underneath. This padding provides additional comfort for the toes and the ball of the foot. Though most of your body weight is removed in the buoyancy of the warm water, the toes and feet still have added pressure on them when performing certain exercises. This padding provides a very soft, supple and smooth cushion of air that helps to support the foot.
Here is another example of the superior design a ThermaPool provides those in need of daily access to deep warm water therapy in the privacy of their own home.
Learn More about How a ThermaPool Reduces the Need for Medicine >>>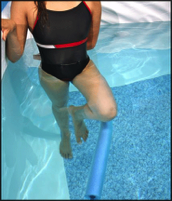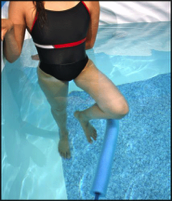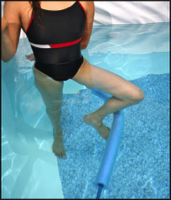 This Customer says,
"When I am in the deep warm water I have no pain."
Imagine - Exercising without Pain. That is the true beauty of a ThermaPool in the privacy of your own home. You are able to increase your exercise routine without increasing your pain. That's worth 10 times what it costs to buy a ThermaPool.
Pictures Include Options Not Standard with a ThermaPool.