ThermaPool Really Helps You Get a Grip
Our therapy pool offers you a very unique feature in that a ThermaPool comes with twelve (12) grommets that are set at three different levels inside the pool: water level, halfway and near-floor. These grommets, in conjunction with our ThermaBand and ThermaCords, can allow you the ability to focus, strengthen and develop literally every muscle, joint and bone in your body.
It is not just enough to provide a ThermaPool user with access to deep warm water in the privacy of their own home - but to offer an overall warm water therapy solution. Regardless of the ailment or disability, a ThermaPool can help a user exercise better and heal faster.
Learn How a ThermaPool is the Better Therapy Pool Choice >>>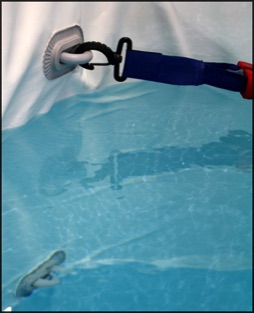 Level One (or Water Level) is ideal for simple pushing and pulling exercises that focus on the upper body and arms. There are also a variety of walking and stretching exercises that can be performed at this higher level.
Level Two (or Mid Level) can either provide even greater resistance for the upper body, arms and back, or can be used for leg and knee exercises. This can also work to create great resistance for knee squats and knee bends while the ThermaBand is on your shoulder.
Level Three (Near Floor Level) this is for focusing on the lower leg, ankles and feet. It can also be used for leg lifts and leg thrusts.
The point being that no matter how much resistance you need, or what part of the body you need to focus on, our therapy pool is the ideal in-home source for warm water therapy and aquatic exercise.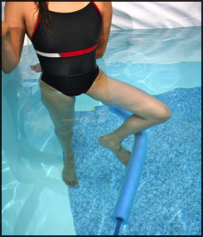 Pictures Include Options Not Standard with a ThermaPool.